The LesLTC Process℠ is designed to help you protect your money from Medicaid, Nursing Homes, and Long-Term-Care events! In addition, the Process will rescue you from the common anxieties associated with maneuvering this unknown territory. The book will educate you about the financial risks you take when facing these turbulent times. This crucial educational system helps to protect your family dreams, your independence, your dignity, and of course, your money and finances.
I am not only the developer of the LesLTC Process ℠, but I am also the first user of these tried and true techniques. My own personal experience was the motivation that caused me to write this book,
and I assure you, the information in this book can help you save thousands of dollars in Long-Term-Care and even in retirement!
This book will help you to:
• Be in control!
• Protect your money from Medicaid, Nursing Homes, and Long-Term-Care events.
• Avoid Medicaid's 5-year look back on your money.
• Avoid being a burden to your family.
• Know the right questions to ask to ensure your retirement is secure.
• Enhance your peace of mind.
• Avoid devastating mistakes that can decimate your financial future.
• Educate yourself about the risks associated with Medicaid.
• Help with Stress Testing Your Retirement
• Protect the spouse from being impoverished
• Avoid impacting your Children financial future with your care costs
•
Remove a major portion of the fear and worry if you are faced with a Long-Term Care event, the need for Medicaid or the need of a Nursing Home or Rehabilitation Facility.
Looking to purchase the book www.lesltc.com/book/
Looking to interview Les Robinson: email him at or call 1-800-875-0140
les@lesltc.com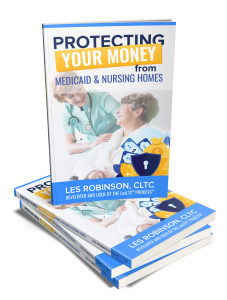 ACCOMPLISHMENTS & RECOGNITION! FOR LES ROBNSON CLTC